In the heart of the 16th arrondissement, we met up with Céline, a local resident who wanted to show us around. Despite appearances, this neighborhood is a far from being purely residential. There are a few lovely discoveries on the agenda, so follow the guide!
A bit of culture
Let's start the day with a cultural visit to the Palais de Tokyo, a modern and contemporary art museum originally called the Palace of Modern Art Museums. In reality, the building is home to two different museums. On one side is the City of Paris' modern art museum, and the other side is a contemporary art museum. Founded in 2002, this exciting place gives an update to contemporary art, thus becoming one of the biggest sites in Europe dedicated to contemporary art. It is a 22,000 square meters space dedicated to "meeting amongst ourselves and the art of our time". It's a must-visit destination when visiting Paris, even with kids. From real to imaginary, this place reveals the true nature of art that is as complex as it is varied.

Palais de Tokyo
13 Avenue du Président Wilson
Metro: Iéna – Alma Marceau (line 9)
+33(0)1 47 23 54 01
Open every day from Noon to Midnight, except Tuesdays
Information and reservations on the website
A little break for something to eat
For lunch, we headed to Etude, a little newcomer to the neighborhood. A recent entry in the restaurant world, its excellent reputation didn't take long to get around Paris and come to our attention. It is an intimate space, with seating for twenty in a little dining room featuring a very contemporary high ceiling. The food served is French with a bit of originality. Try the jellied beef consommé and its grapefruit emulsion, it's delicious! Portions are generous, combinations daring and dishes are presented beautifully. Grab your forks!

Restaurant Etude
14 rue du Bouquet de Longchamp
Metro: Boissière (line 6) – Iéna (line 9) – Trocadéro (lines 6 & 9)
+33(0)6 45 05 11 41
Dinner from Tuesday through Saturday, lunch on Thursday and Friday only. Closed Sunday and Monday
Prix-fixe meals at €55 and €80
An afternoon of shopping
If you're going to hit the shops in this neighborhood, we first of all recommend the rue de Passy, one of the most shop-laden streets in the 16th arrondissement. The Passy Plaza shopping gallery contains over 25 boutiques, including the large Franck et Fils store and the favorite store of Opéra de Paris ballet class pupils, Repetto. You should also take a stroll down the rue Victor Hugo, where Isabelle Marant has taken over a lavish mansion to open up an immense store, over three floors.
A little sweetness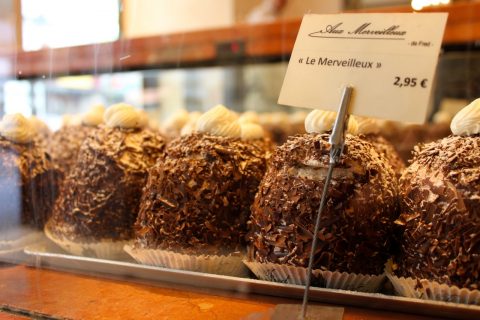 Sweetness in this neighborhood can be found at Aux Merveilleux de Fred. This pastry shop celebrates meringue from every angle and delivers it in five flavors. One house-made product is coated in whipped cream and stuffed with shaved white or dark chocolate and caramelized hazelnuts. It is a place for culinary discoveries that is not to be missed!

Aux Merveilleux de Fred
29 rue de l'Annonciation
Metro: La Muette (line 9)
+33(0)1 45 20 13 82
Open Tuesday through Sunday, from 9:00 a.m. to 7:30 p.m.
More information available on the website
Dinner by the water
After a full day, what could be better than dinner in a quiet little spot? For that, go to the Chalet des Iles. This delicious slice of paradise is hidden in the heart of the Bois de Boulogne. Hopefully you don't get seasick, because this restaurant is accessible only by boat. You will probably start your evening with an aperitif on the patio, which overlooks the lake, before eventually taking refuge inside. The setting here is both traditional and surprising, and the atmosphere is warm and friendly. Abundant, typically-French cuisine is accompanied by pleasant, meticulous service. It's enough for you to forget, in the span of a few hours, that you are still in Paris.

Chalet des Iles
Bois de Boulogne, Porte de la Muette
Metro: La Muette (line 9)
+33(0)1 42 88 04 69
More information available on the website