After checking out the 5th and 7th Arrondissements we continue our discovery of Paris and today we look to the north in the 18th Arrondissement. A neighborhood of artists, hipsters (bourgeois-bohèmes or bobos in French), tourists, markets of all sorts, cabarets, concert halls… A cheerful melting pot that Paul a lover of the neighborhood wanted to share with us.
How does an ideal day in the 18th begin for you?
To start out our day we will climb to the top of the Butte Montmartre (warming up the legs to start the day out right). For the brave you can take the stairs, otherwise there is always the funicular which will drop you off at the top. From there you can enjoy a 360° view of Paris and the Sacré-Cœur Basilica. Don't hesitate to go inside—it is worth the detour! Then we will take a little stroll around the Place du Tertre, the center of the old village of Montmartre. It is home to many artists, a reminder of an era when Montmartre was the primary meeting place for the modern art world.
Visit Montmartre
Where can we have lunch and spend the afternoon?
This little morning walk has made you hungry? Let's stop at l'Annexe Montmartre where French food and a good atmosphere combine perfectly with the totally zany décor of its owners. Here you can eat fresh seasonal food and the menu changes depending on what is in at the market.
L'annexe Montmartre, 13 rue des Trois-Frères – Website
For your afternoon you can easily find enough to keep you busy around the Place des Abbesses. For example you can take a look at the "Je t'aime" wall in the romantic garden at Jehan Rictus square meeting place for lovers from around the world.
Where can we do some shopping?
The neighborhood is overflowing with small original shops! In the heart of Abbesses you will most likely set foot in Chez Qhuit a clothing store that borders on an art gallery but it is also a meeting place where it is not unusual to meet up to drink a beer and listen to music to celebrate the delivery of a new collection.
Chez Qhuit, 39 rue Durantin – Website
Then make a tour around La Boutique des Anges the only shop of its kind in France; it's an unusual place specializing in anything to do with angels or "angitude" in all its forms all materials all colors.
La Boutique des Anges, 2 rue Yvonne le Tac
And to finish go back down a bit to reach the Saint Pierre Market. Welcome to one of the biggest fabric stores in the world! In this veritable temple of fabric, modernity and tradition have been coming together for over a half century.
Marché Saint Pierre, 2 rue Charles Nodier
And for culture what do you recommend?
No hesitation the Musée de Montmartre occupying the oldest house in the neighborhood. You will be plunged into the heart of Montmartre's bohemian artistic life in the atmosphere of its famous cabarets and the highlights of the Butte's history. Many artists lived here for several years. Auguste Renoir painted some of his greatest works here like Le Bal du Moulin de la Galette or La Danse à la Ville. Every artist who has lived here has left their mark giving this unique place a soul of its own.
Musée de Montmartre, 12 rue Cortot
The day is coming to an end what will I do with my evening?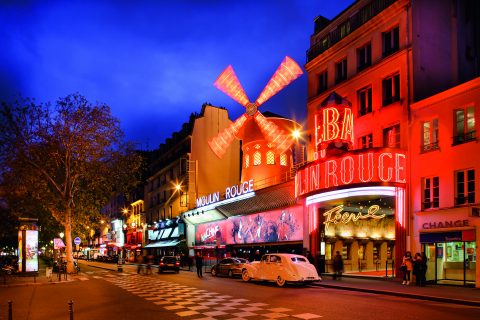 As you come down from the Butte you will find one of the most animated neighborhoods in Paris after nightfall: Pigalle! Obviously you won't miss the Moulin Rouge and its famous Revue Féérique but there are many other mythical concert halls: Divan du Monde, La Cigale, La Boule Noire, le Trianon, les Folies Pigalle… You won't be short on choices! And if you prefer relaxing with a drink after your long day there is always Marlusse et Lapin probably one of the most atypical bars in the neighborhood.
Marlusse et Lapin, 14 rue Germain Pilon
Le Moulin Rouge, 82 Boulevard de Clichy
Looking for an apartment near the Moulin Rouge ?
Did you know?
In Montmartre you can also find…vines! Yes just a stone's throw from the Sacré-Cœur grow the grapes of Montmartre which are a source of pride for neighborhood residents. The vintage of the harvest is the "Clos Montmartre" which is talked about the world over and is celebrated each year in the harvest festival (fête des vendanges).
Montmartre grape vines, corners of the Rue de Saules and the Rue Saint-Vincent
Looking for an apartment in Montmartre ?