The Parisian life of a student couple
Firstly, let me congratulate you. You have just started your French blog, where you share some of the adventures you experienced as new Parisians. How did you come up with the idea to create a blog?
A: I've always been a fan of the concept of a blog and wanted to start my own. I've been gathering ideas for months. So one day, to please me, Quentin said, "Come on, let's launch our own blog tonight."
Q: Our idea was not to create a blog just about us, us, us... but to produce something that both guys and girls could enjoy reading, whether they are French or French speakers arriving in France from a different country. Our idea was that they could all take something away from our exciting experiences. That was the inspiration, so I set to work.
A: You actually love it!
Q: We write the articles together. But it is mainly you who has come up with the ideas. There is some talk about Paris, seeing as we live here, but it is mainly focused on what we do together. In September we had just moved to Paris, so at that point in the blog we mostly talked about our experiences as newcomers to the city.
A: What we wanted to share with everybody was that it's about the two us, having embarked on an adventure, living in Paris.
So, is there really a difference between living in Paris as a student and visiting Paris as a tourist?
A: Yes, of course! What we like in Paris is not always to be found in the tourist areas of town. We try to discover little-known districts, as well as new restaurants, museums, and theaters. Not necessarily the largest or the most famous ones in Paris, but that still offer fascinating experiences. As a couple, we have discovered so many little nooks and crannies and new activities. They are what make this city so charming.
And what are your favorite places and activities?
A: Eighteen months ago, Quentin introduced me to ramen (she laughs) and I was immediately hooked. Now every Saturday we go and try out new ramen venues and I've already made a list of my top five favorites.
Q: My passion is Paris...um... I spend a lot of time in the Parisian perfume stores. They are something we are very fortunate to have in France and especially in Paris. It is a pleasure to discover so many little perfume stores that exist independently of the big brands. Perfume is of great importance in France and for that reason alone I welcome the opportunity to live here.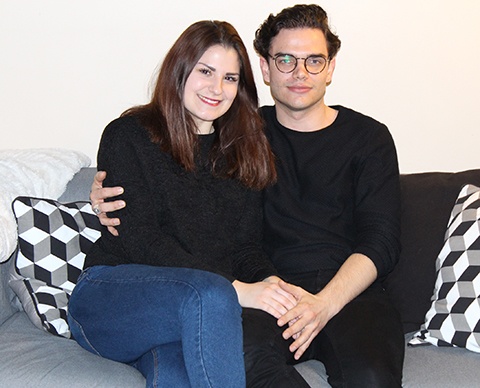 Do you have any planning tips to help newcomers settle in Paris?
Q: Upon arriving in the city, it is interesting to seek out the rich and diverse cultural side that Paris has. And there are plenty of discounts to be enjoyed, particularly for students.
A: Yes, there are many museums that are free for those under 26. Theaters, like the La Comédie on Les Champs Elysées, have a 50% student discount every Thursday. There are plenty of things to be enjoyed and that's what we do in Paris. We see a play or go to a museum.
Q: Paris is a real treat for those under 26, you need to take advantage of it.
A: There are also some Vietnamese and Italian restaurants where it is great to try everything! Then personally, I think it is also important to visit tourist places. It may seem silly, but last week we went to the Eiffel Tower and a month ago we took a trip on one of the river boats and loved it.
Q: That is something a bit less touristy because you see Paris as it really is.
A: Yes, I saw a Paris I did not recognize.
And after all these activities, there comes a time when you return home. How do you pamper yourselves? What makes you feel at home in your apartment?
A: I am very into decor, Quentin is as well. I like to have blankets, throws, and cushions to keep us cozy. Even though it's only 26 sqm, our little apartment is full of thick rugs and cushions, even on the mezzanine. It's like walking on a cloud. (Quentin chuckles.)
Q: Yes, I agree with Anaïs, I like to be comfortable at home.
Yes, that is important! And now, you are moving to an apartment closer to the center and colleges. It appears that you had some difficulties in finding your apartment.
Q: Yes, finding an apartment in Paris can be such a hassle, you really have to fight for something you like. We had dozens of unanswered emails and phone calls.
A: It was like we were thrown into the deep end because having to give a month's notice on our last apartment left us only a short time to find something new, without it necessarily being perfect for us. After three weeks, we finally saw a photo of a place which we loved and when we viewed it, we knew it was the one for us. Especially as it was on Rue Diderot in the 12th district. We had to fight for it but we were clearly favored by the agency.
Actually, speaking of agents, you started searching on your own but finally had to resort to using an agency. What makes an agency the perfect one for you?
Q: It is difficult to find an agency with a personal touch in Paris, you tend to have to push and call and harass them. Very often you have to take whatever comes along, especially if you're in a hurry to find something. In a perfect world you would arrive at the agency, explain your preferences and needs and the agency would immediately offer you a good selection of apartments.
A: It would be good for young people to visit an agency and tell them their budget before receiving suggestions. You need to have several options to choose from, even ones that are different from your initial expectations.
If they had gone on our Paris Attitude website, Anaïs and Quentin would have been able to choose from nearly 7,000 apartments. They could have chosen their favorites by filtering the neighborhood and area, their price range and the small, charming features they wanted. With our online appointments calendar, Anaïs and Quentin could have booked viewings immediately. It is only after a reservation is confirmed by the owner that we apply our agency fees, which vary according to the contract length and the rental price.