Are you planning a move to Paris, either as an expatriate or for studies? You want to stay in one of the best neighborhoods in the city, so the search for accommodation may be top on your list of priorities.
In Paris, hotels are a popular option for accommodation, but for someone looking to live in the city longer than a few days, furnished apartments are the best choice.
The first step in renting a furnished apartment in Paris is to know the key steps to follow. Here are tips to help you pick the right apartment remotely from home.
Choosing the Right Location
Before you reserve a furnished apartment in Paris, you need to identify the location you prefer to stay in. Depending on what you'll be doing in the city, you should ask a few questions: is the apartment near public transportation? Is the neighborhood safe? These questions are easier to answer if you've been to Paris before, but for a first-timer, they require research.
Paris consists of 20 districts, also referred to as arrondissements. The city is densely populated and each neighborhood is different from the other. For example, areas like Montmartre, Le Marais, and Saint-Germain are known to be lively, stylish, and artistic. The 7th and 16th arrondissements pride themselves in being residential and calmer.
You can find most of this information on the internet. It's worth it to take a moment to read up about the different districts of Paris to know which best suits your expectations. After settling on a neighborhood, use a platform to filter apartments by district in Paris. The tool will also help you see the kind of amenities included and things to see near the apartment.
Know your Budget
While searching for furnished apartments to rent in Paris, you should also factor in your budget. How much you plan to spend will determine the kind of accommodation you can find. Filtering results based on a price range will save you time. Note that having a small budget does not always translate to bad accommodation choices. If you invest enough time searching, you can find decent affordable apartments in Paris.
Also, pay attention to discount offers to save even more. Ensure that you've read all details to know what the apartment offers and what is not available. If your budget permits, you can find high-end furnished apartments in Paris city center. But on a small budget, it would be easier to search in less central areas. Even for apartments away from the city center, you're always near metro stations.
How to Rent an Apartment in Paris Remotely From Home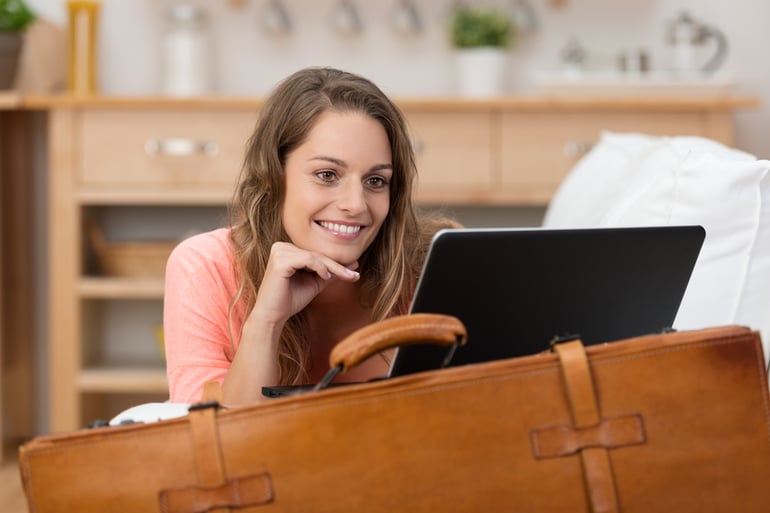 There are two ways to rent an apartment in Paris if you're doing it from home remotely. One is to do it yourself and the second is to hire an agency to handle the business for you.
Using an apartment rental agency is useful if you're visiting Paris for the first time. They'll help you choose a location that best suits your needs. Some agencies even specifically cater to expats and their services are available in English. Going through an agency is simpler and takes less time, and you're insulated from mistakes because the agency has information about each neighborhood in Paris.
If you prefer to do it yourself, you'll need to identify a suitable apartment and contact the landlord directly. No middle person is involved in this case, and that means you save on fees charged by agencies. The downside is that you don't know what to expect. But you can schedule virtual tours to inspect the apartment before you make up your mind to rent.



Virtual Tours from Home - Inspecting the Apartment Remotely
The technology of using virtual tours has been in real estate for a while. It's based on 360-degree photos that immerse you into the surroundings of a property. All you need is your smartphone, computer, or tablet.
Through this technology, you don't need to incur travel costs to visit any apartment for inspection. You can do this from the comfort of your home thousands of miles away. It allows you to tour different apartments in Paris before you settle on the one with the amenities you love. From this point, you just need to proceed and sign the contract. But how do you do it remotely from home?


Electronic Signature of Rental Lease
Signing the rental lease for a furnished apartment in Paris does not require you to be physically present. This process could be done remotely through electronic signature technology. But before this, you could use the mail to send your signature. In this case, you're sent copies of the rental agreement, which you'll sign then send back.
However, starting November 24, 2018, the government established the use of the digital lease. This gives you a fast and convenient solution that is also environmentally friendly.
What About Key Collection?
But how do you collect your keys since you've done everything remotely? Keys are generally handled to you in person, mostly at the same time with the inventory.
More tips to consider
While looking for a furnished apartment in Paris, you should also consider reading reviews before you book a property. Look for potential issues with the apartment. But don't be put off by small things unless there are major issues that would inconvenience your stay. Be careful with properties that have no reviews as you could be setting yourself up as the guinea pig.
Additionally, consider talking to multiple owners to see which will give you the best deal. This way, you can negotiate for discounts and also get to know more about the properties. Also, read the descriptions carefully to know what you get. Does the property offer WiFi? Is there a way to contact the landlord in case of issues? And is the property child friendly if you're traveling with your family?


Renting furnished apartments is easily one of the best choices of accommodation. You get an authentic and memorable experience compared to staying in a hotel, which might oftentimes be costlier. If you're looking to rent an apartment in Paris, this guide will help you get started.