Paris is an amazing city with a lot of interesting activities and sights to offer. But when it comes to finding spots where you can experience a bit of peace and quiet, that list isn't nearly as long as the city's many attractions. Luckily, we've researched all the convenient study spots around the city where you will be able to study and work without interference!
If you are a student in need of such a place, then read on to discover all the best places to study in Paris. Our list includes both traditional places, such as libraries, universities, and cultural centers, as well as atypical places such as cafes, workspaces, etc.
Traditional Places to Study in Paris
1. Public Information Library (Bpi)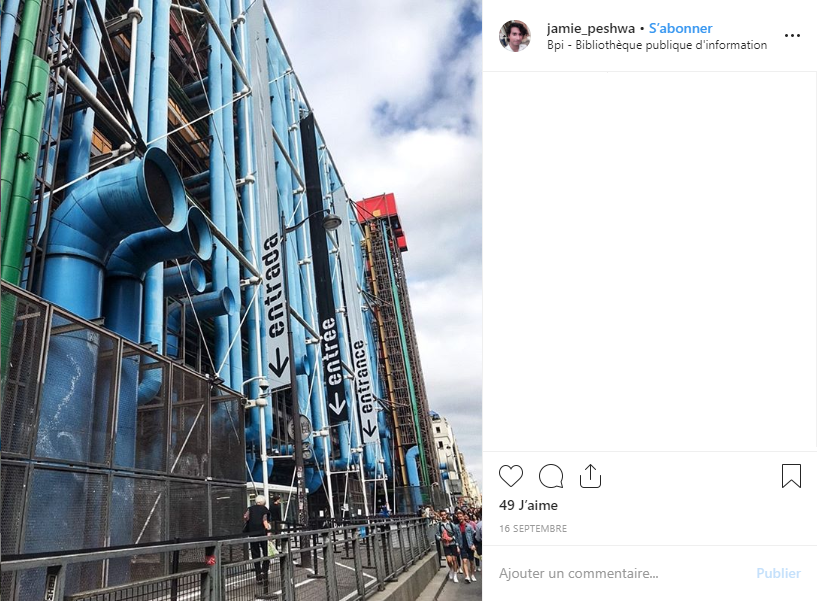 This library is open from Monday to Friday, 12h to 22h. On weekends and holidays, the operating times are between 11h and 22h. It's closed on Tuesdays. Located at the Georges Pompidou Center, 1 Rue Beaubourg, Paris 4th, this library is easily accessible via Metro Rambuteau, Chatelet, or City Hall.
The entrance is free and without formality. In the library, you will also get convenient services and amenities including wifi, printers, photocopiers, and more. There's also a cafeteria in this spacious area. The colorful, brightly lit environment here is conducive to efficient, focused work.
Advantages
Practical location and design
Webcam for monitoring library entrance
Library opens on Sundays
Disadvantages
Library opens late ( 11 and 12am)
There's usually a queue on weekends
Cannot borrow books from the library
2. François Mitterrand (BnF)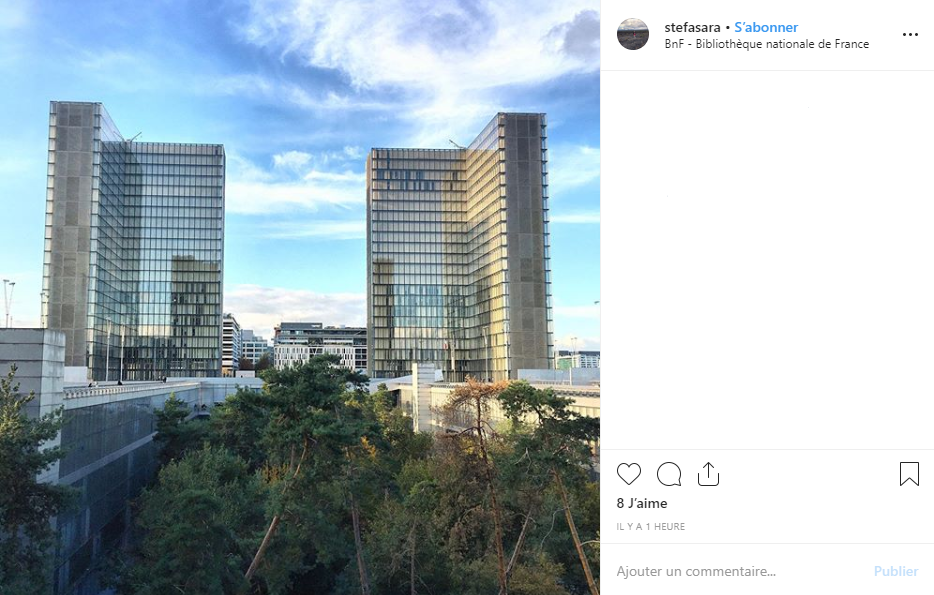 Accessible by anyone over the age of 16 years, this library in Quai Francois-Mauriac, Paris, is open Tuesday to Saturday, from 10h to 20h. On Sunday, it's open from 13h to 19h. The library can be accessed through Bibliotheque Francois Mitterrand (RER C, line 14) and Quai de la gare (line 6).
Here there is a fee to enter, and you have two payment options. First, you can choose to pay the daily rate of € 3.50, or you can opt for the annual fee of just € 32. This library is the largest in all of France ! It has over 40 million documents, which is why it's no wonder it has its very own metro station.
Advantages
Large, spacious work tables
Vast range of books available
Access to two reading rooms
Perfect for research and quiet work
Cafeteria and exhibitions on site
Disadvantages
The library fills up quickly during exam period
Payment is required to enter
3. Grands Moulins Library (Bu Paris Diderot)
Located at 59 Panhard and Levassor Quay in Paris, this library is open every Monday from 11h to 20h. Tuesdays to Fridays, it's open between 9h and 20h. On Saturday the library is open between 11h and 19h. However, it's important to note that the schedules are changed sometimes during the year.
The library can be accessed via the Bibliotheque Francois Mitterrand (RER C, line 14). If you're tired of losing hours of your tie in getting to BnF, then this is the perfect solution to your needs.
Here, you won't have to waste any of your time queueing. Just a short walk to the Grands Moulins Library in Paris Diderot University, and you'll be able to access a large, spacious, and quiet area for your studies. The best part is that this library has over 250,000 books in 5 different areas of research and training – and it is totally free to use.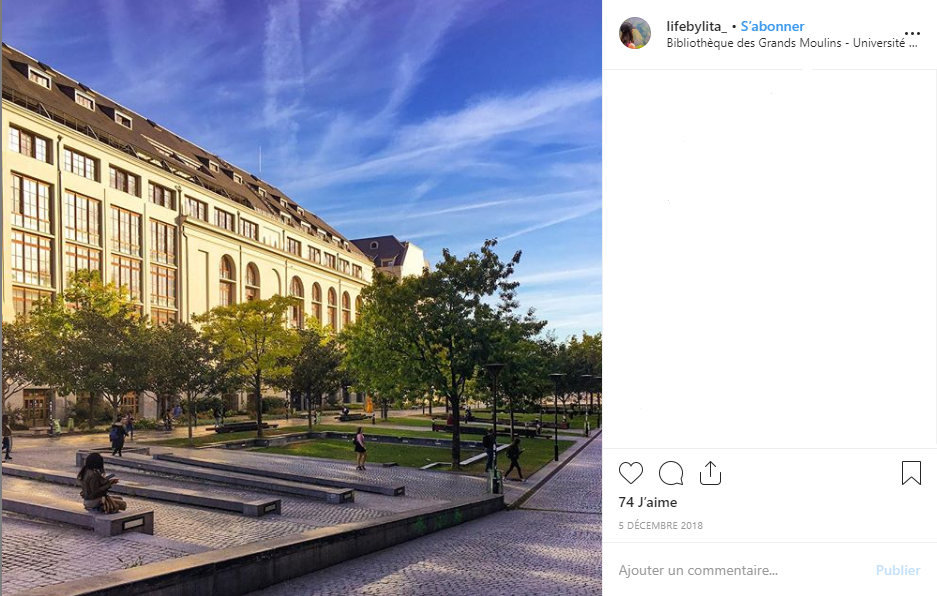 Advantages
It's easy to find convenient studying spots
No need to register if you're not borrowing books
Adjacent park for relaxing between study sessions
Disadvantages
It's smaller than its neighbor and has fewer books
4. St. Genevieve Library (BSG)
The St. Genevieve Library is located at 10 place du Pantheon, in Paris. It is open Monday to Saturday from 10h to 22h. The library can be accessed via Luxembourg (RER B) and Maubert Mutualite (line 10). The building has large metal arches that give it an airy feel, and there are long, spacious wooden tables that are lit by charming little green lamps.
This library is certainly one that offers the ultimate in visual appeal. It is 500 years old, and has over two million documents for a variety of disciplines. This is a temple of knowledge to be marveled at. Access to this library is granted to any adult for free upon presentation of personal identification.
Advantages
The library is open until 22h
Perfect for working students
Offers spacious, idyllic study setting
Disadvantages
Students can be noisy
There are often queues to enter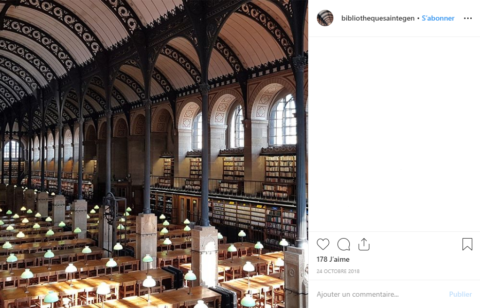 Atypical Places to Study in Paris
The Pavilion of the Canals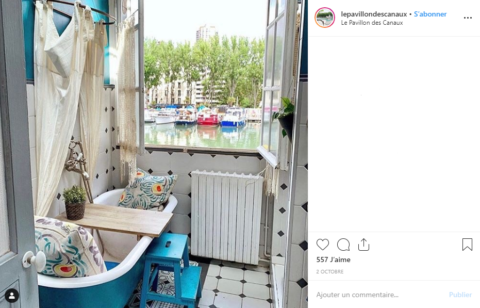 This is the perfect place to study if you love a funny concept. The old house was reworked to offer seating in all the different rooms, including the kitchen, living room, bedroom, and even the bathroom. So, if you've ever dreamed of studying in the bathtub, this is your chance !
There's very good wifi here, although there might be failures if the place is packed. If you are a student searching for an atypical place to study in Paris, then this could very well be the perfect spot for you! The place opens at 10h every morning and is located at 39 quai de la Loire, 75019 Paris.
Advantages
This place offers good wifi service
You can study while having great coffee
At noon, the place becomes a restaurant
No need to pay to study here
Open until midnight most days
Disadvantages
The location is the only drawback
Homemade lunch is rather expensive
2. Regus Business Lounge
For anyone who knows Regus, you won't be surprised to see it listed here as one of the best atypical places for students to study in Paris. Mainly, Regus is known for offering office rentals, but they also have this little known business lounge that offers a calm, relaxing environment that is conducive to focused work and study. This business lounge basically improves upon the function of a cafe.
Here there are chairs, wifi, printing services, and unlimited coffee. You get all of this for just 40 € per month. When looking at the service offered, this is definitely the most value you'll get from such an establishment. The team here welcomes you professionally and they are at your service for whatever you need to enhance your study time.
Advantages
This is a real workspace
Less noisy than most other solutions
Offers unlimited coffee to keep you alert
Disadvantages
Closes at 18h which most find too early
First come, first served, so seating is not guaranteed
Requires three-month commitment
2. Numa
This place was formerly known as the Silicon Trail and has a very simple concept. The ground floor has tables, wifi, and armchairs – all for free. It has been very successful as a place of study and work for busy students and professionals in the city. However, because of its popularity, this place can sometimes get really full and noisy.
But, that may be a small price to pay, considering that entry is totally free and that you have no moral obligation to purchase and consume anything on the premises while you study. All in all, this is a centrally located, vibrant place that students love to frequent.
The type of reception you get here is very far from the one you get at the Regus – but that is to be expected since it's free. Numa is located at 39 rue du Caire, 75002 Paris, and is open Monday to Friday from 9h to 20h.
Advantages
Access to the study area is totally free
You are under no obligation to consume
Vibrant, trendy, and effervescent place
Great spot to meet other like-minded individuals
Disadvantages
Reception can be extremely poor
The place gets packed pretty fast
If there's an event organized, you may have to leave early
3. The anticafé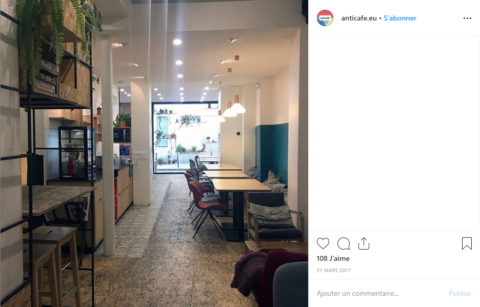 This is one of the most original concepts of this time. The Antifafe is based on paying for the time used, rather than paying for drinks, as you would in a normal cafe. This is something that many students are happy to get on board with, and this concept has been growing in popularity ever since its inception some years ago.
If you are a student in Paris, looking for the best atypical places to study in the city, then this is one that you absolutely must check out. Here you pay € 5 for each hour, and you get unlimited wifi, unlimited coffee, and snacks like cookies, cakes, etc. This place has the distinct advantage of being a bit more exclusive than most other study spots, which means that you are assured of a peaceful, quiet, and relaxing environment.
Advantages
Amazing team that rivals Regus
Great energy and motivating environment
Generous offer for both study and refreshment
Disadvantages
Long periods of study can prove to be extremely expensive
Seating is not guaranteed as the Anticafe is usually packed